В среду впервые побывал в доме-музее Шаляпина в Москве и сразу – на концерте романсов. Это было превосходно! В разгар предрождественского ажиотажа уйти от суеты и погрузиться в волшебство музыки…
Конечно, лучшие годы Тахтаровой остались в прошлом. Ей было трудно стоять на ногах, она часто держалась за рояль. Но стоило ей начать петь, как происходило преображение. Замечательно аккомпанировали ей Чернова на рояле и Новиков на гитаре.
Эти романсы отлично подходили к атмосфере этого дома, который помнит великого Шаляпина. В небольшом зале они звучали по-домашнему, для каждого из зрителей. К сожалению, было их мало. Почему? Представительница Москонцерта считает, что дело в позиции телевидения, которое уделяет мало внимания романсу. Мне лично представляется, что проблема не в этом: ни один театр по ТВ не рекламируют, но люди туда ходят. Зато во многие из них билеты продают через Интернет, чего дом-музей Шаляпина не делает. Может, интерактивность и не всегда сочетается с духом романса, но без неё рассчитывать на массовую аудиторию сложно.
А для тех, кто пришёл на концерт, это был праздник, и шумящее Садовое кольцо после выхода из помещения стало его продолжением. Так сам Шаляпин мог выехать из дома в шикарном экипаже. Кстати, сам он в своё время тоже обходился без телевидения…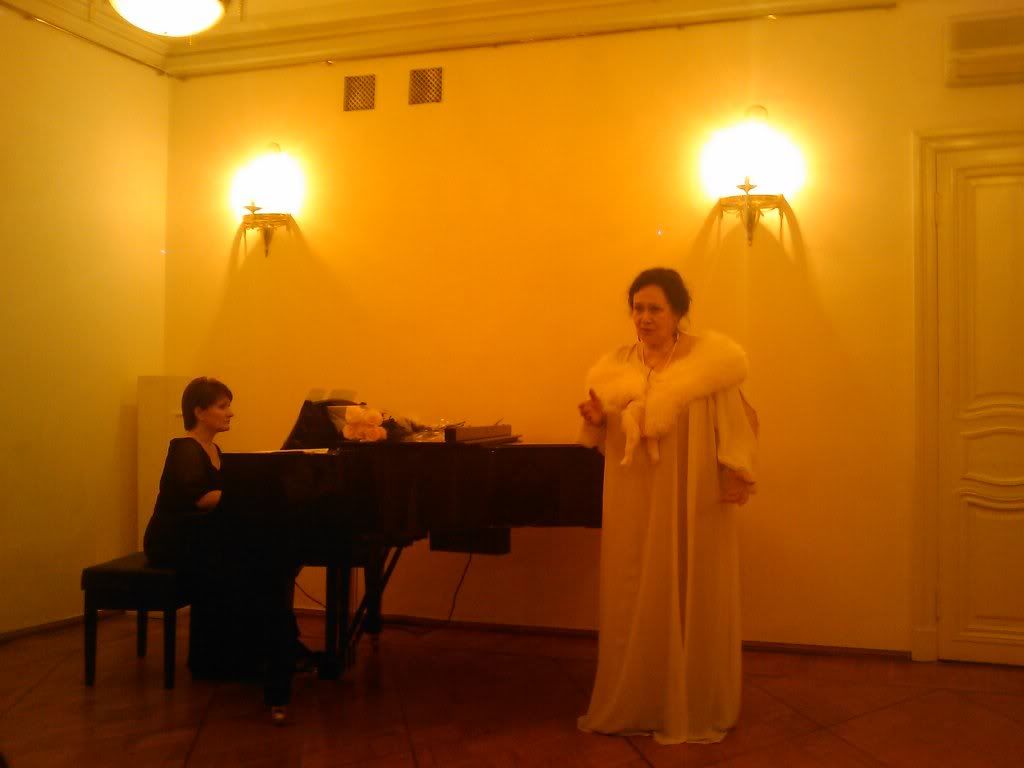 Last Wednesday I was first time in the Shalyapin House, Moscow and started with a romance concert. It was excellent! To leave pre-Christmas hurry for the magic of music…
The best years of Takhtarova are in the past, of course. It was difficult for her to stand, she kept holding on the grand piano. But once she started singing, the transformation began. She had great accompaniment from Chernova, grand piano and Novikov, guitar.
These romance songs suited excellently the interior of the house, which remembers the great Shalyapin. They sounded homely in a tiny hall, for each spectator. They were few, of course. Why? Mosconcert representative believes, the issue is in TV position, it pays little attention to romance. My personal viewpoint is different, no theatre is advertised on TV, yet people go there. But many theatres sell tickets via Internet contrary to the Shalyapin House. Interaction may not always meet the spirit of romance, but you can hardly count on broad audience without it.
For those who were at the concert, it was like a celebration, the roaring Garden Ring after they left the hall became its continuation. Shalyapin himself could have left the house in a splendid carriage. By the way, he used to live without TV in his time too…