Эту цитату знает весь мир, эти гениальные строки написаны про невинно погибших людей из концлагеря Бухенвальд. Нет, я не выезжал в Германию, я вообще далеко от дома не отъезжал. Эти строки пришли мне в голову сегодня во время поездки на Бутовский полигон.
Поклонный крест и храм / The Bow Crucifix and the Temple.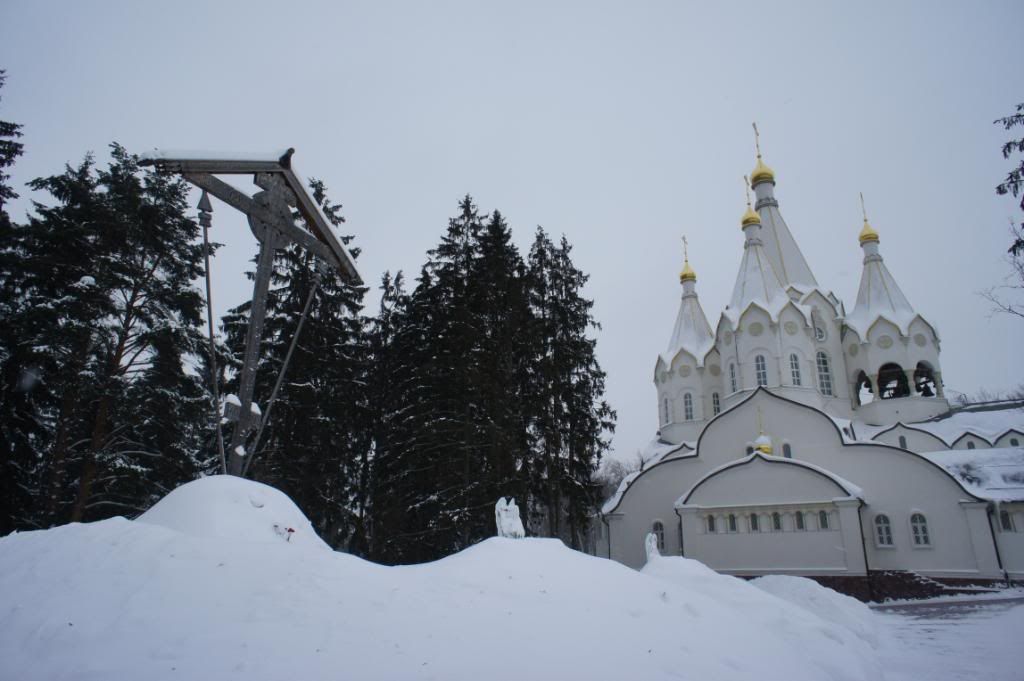 The quote is known all over the world, these words of genius are written for the guiltless people who died in KZ Buchenwald. No, I haven't been to
Germany
lately, I haven't been far from home at all. These lines have come to my mind today during a trip to the Butovo Firing Ground.
Поводом стала служба в честь новомучеников православной церкви, но это общее место скорби всех россиян вне зависимости от вероисповедования. 21 тыс. было убито на этом месте только за год с августа 1937 года в ходе сталинских чисток. Невозможно представить, что в XX веке под знамёнами прогресса могло твориться такое варварство.
Со стен полигона на тебя смотрят фотографии погибших, эти лица невозможно забыть! Я думал: чем они отличаются от обычных советских людей? И только сейчас понял: в их глазах есть мысль. Как в фильме Ромма про нацизм, есть фраза про то, что люди в Германии не изменились, но к концу войны они начали думать. Жертвы Бутовского полигона думали слишком много… В церкви под стеклом обувь тех, кого нашли во рвах братской могилы. Ты стоишь в метре от неё и кажется, что эти люди вошли в храм. Они невидимой толпой окружают тебя и спрашивают, всегда ли ты думаешь над тем, что происходит вокруг, или включаешь «ящик» и киваешь диктору?
А ещё мне кажется, мы должны этим людям. Не материально, даже не покаянием одним. Это были талантливые люди: поэты, художники, лётчики. Они ушли во цвете лет, не успев реализовать всех своих планов и принести пользу человечеству. Мы должны сделать это за себя и за них. Мир Вам, павшим ради Молоха утопии…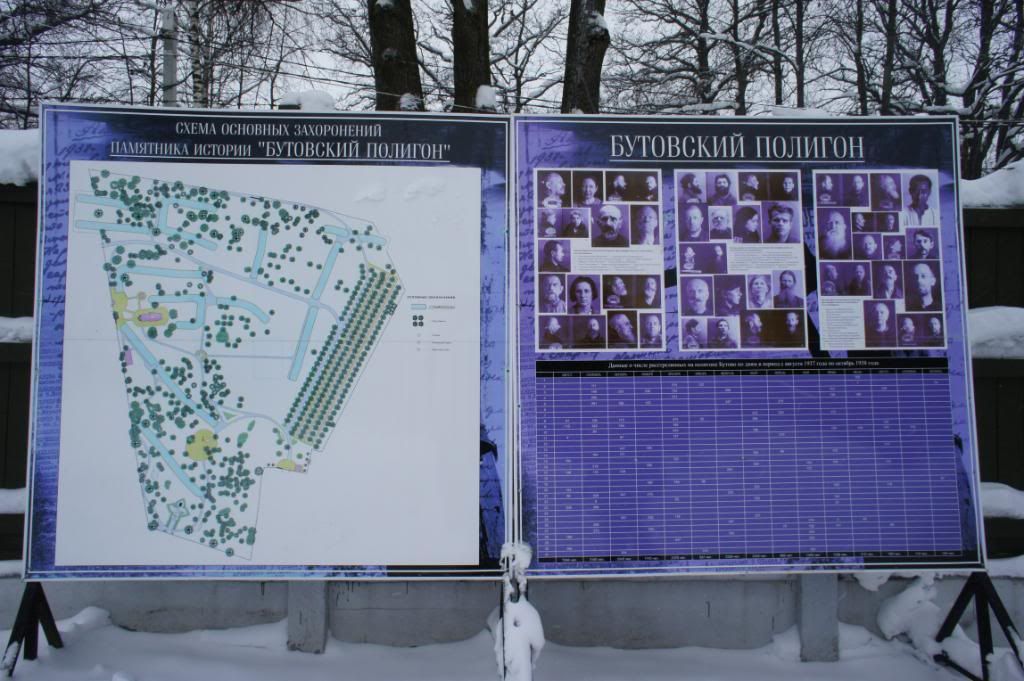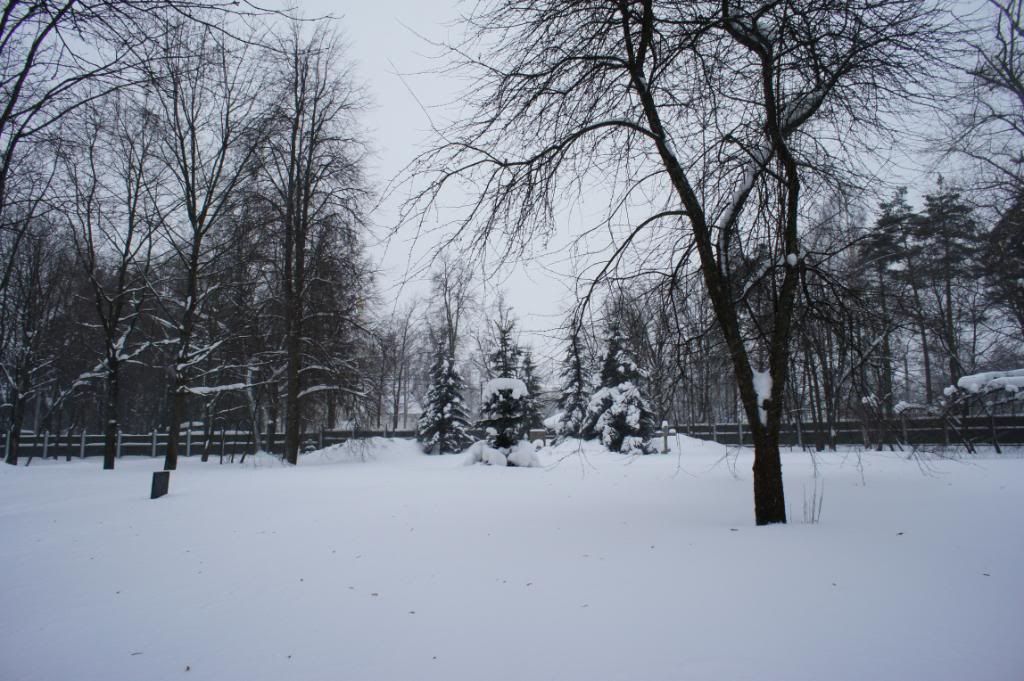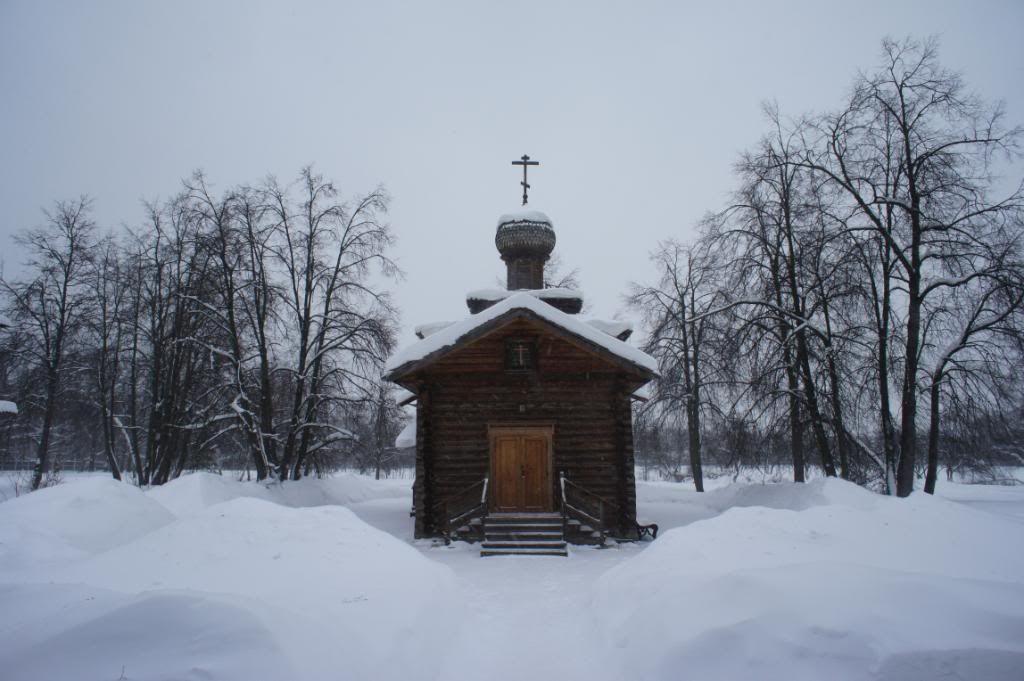 It was made on occasion of a service commemorating the new martyrs of the Orthodox church, but this is the common place of grief for all the Russians, regardless of the religion. 21 thousand were killed at that location for just one year following August 1937 during Stalin's purges. You can't imagine that such barbarism could have taken place in the 20th c. under the banners of progress.
Pictures of the killed look upon you from the Ground walls, you can't forget the faces! I thought, what does make the difference against the common Soviet people? It's only now that I understand, their eyes contain thought. It's like in Romm's movie on Nazism, there is a sentence there that German people didn't change with the war but started to think. The Butovo Ground victims used to think too much… The church keeps under glass shoes of those found in the ditches of the common grave. You stand one meter away and feel as of these people had entered the temple. The surround you in the invisible crowd and ask if you always think on what is going on around you or turn on the "box" and nod to the announcer.
Besides I believe we owe to these people. Not money, not even repentance alone. They were talented persons, poets, artists, pilots. They left us in the blooming age, failed to realize their plans and be of use to the mankind. We are to do this for ourselves and for them. Peace to you, those fallen for the Utopian Moloch…