С билетами на гала-концерт артистов оперетты не получилось. Это всегда расстраивает, когда по телефону тебе говорят, что билеты есть, а на месте оказывается, что, пока ты ехал, всё распродали. Что ж, зато удалось посмотреть на снегопись в Сокольниках.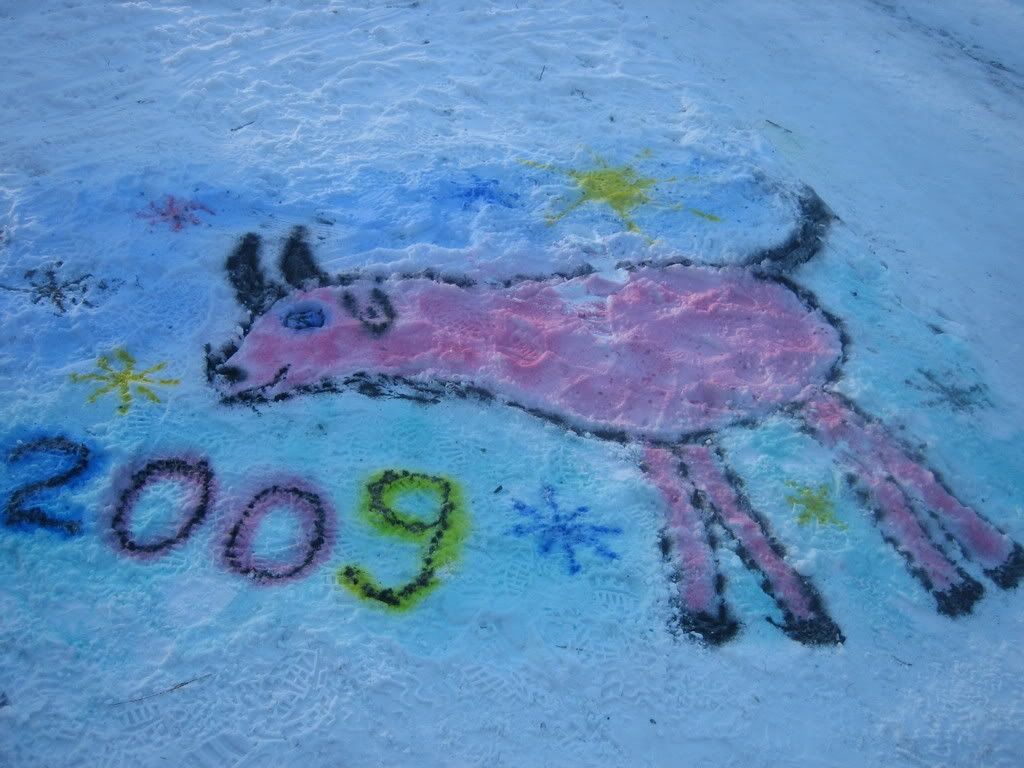 I was unlucky with tickets to the operetta gala concert. It is always disappointing when they tell you on the phone that tickets are available, and by the time for you to get there they are already sold out. But that's OK, as I've managed to see snow painting in Sokolniki.



На дорогах машин не было, и даже ДПС, казалось, было лень выставлять посты так рано после Нового года. Где весь народ, я понял, когда вошёл в парк. Круговую аллею превратили в каток, и по нему непрерывно катили тысячи москвичей. Те, кто был без коньков, теснились по краям и по просекам, в одном из которых и проходил конкурс снегописи.

Что это такое? Рисунок красками по снегу. Как ни странно, пока мне ещё такое видеть не доводилось, что связано с недолговечностью подобных художеств: им суждено либо растаять в оттепель, либо быть погребёнными в снегопад. По счастью, сегодня не было ни того, ни другого, и можно было любоваться рисунками. В основном, объектом творчества стали быки и коровы, некоторые, правда, больше походили на котов или ослов, и все широко улыбались, как этот оригинал, занявший I место.

Вообще, в Сокольниках было весело. У эстрады Ротонда проходила дискотека… для пожилых людей! А возле детской площадки построили Снежный городок, который пока, правда, готов только снаружи.

Выходите на свежий воздух! Поверьте, там гораздо лучше, чем проводить праздники в компании с телевизором.


Каток / Skating Rink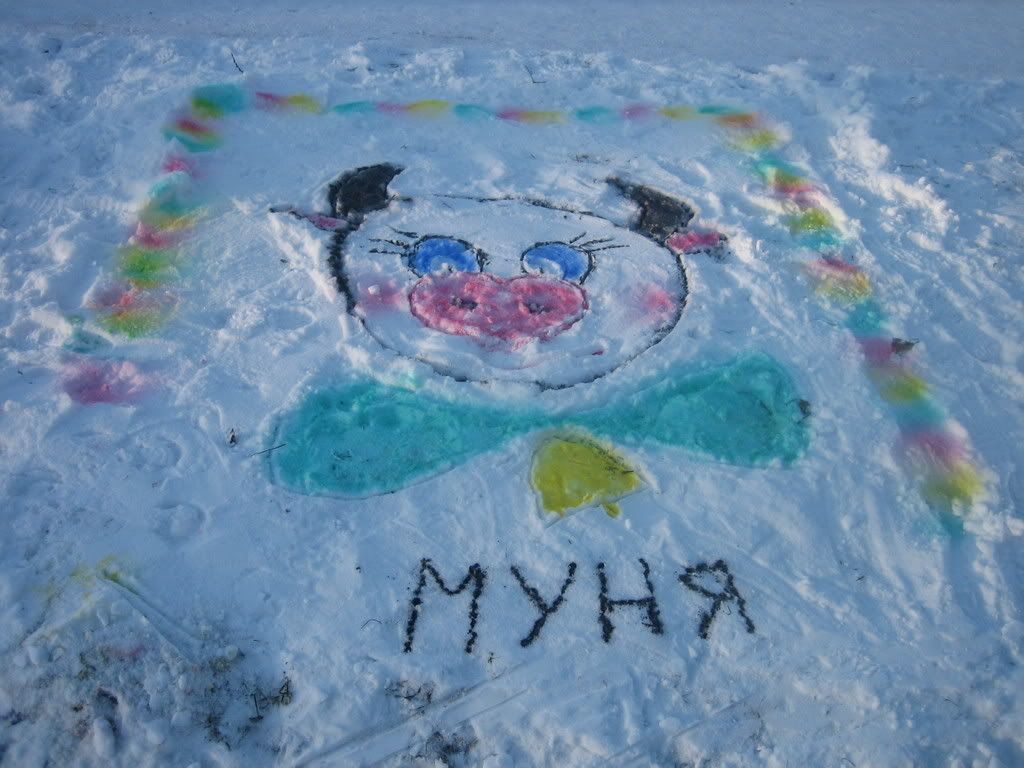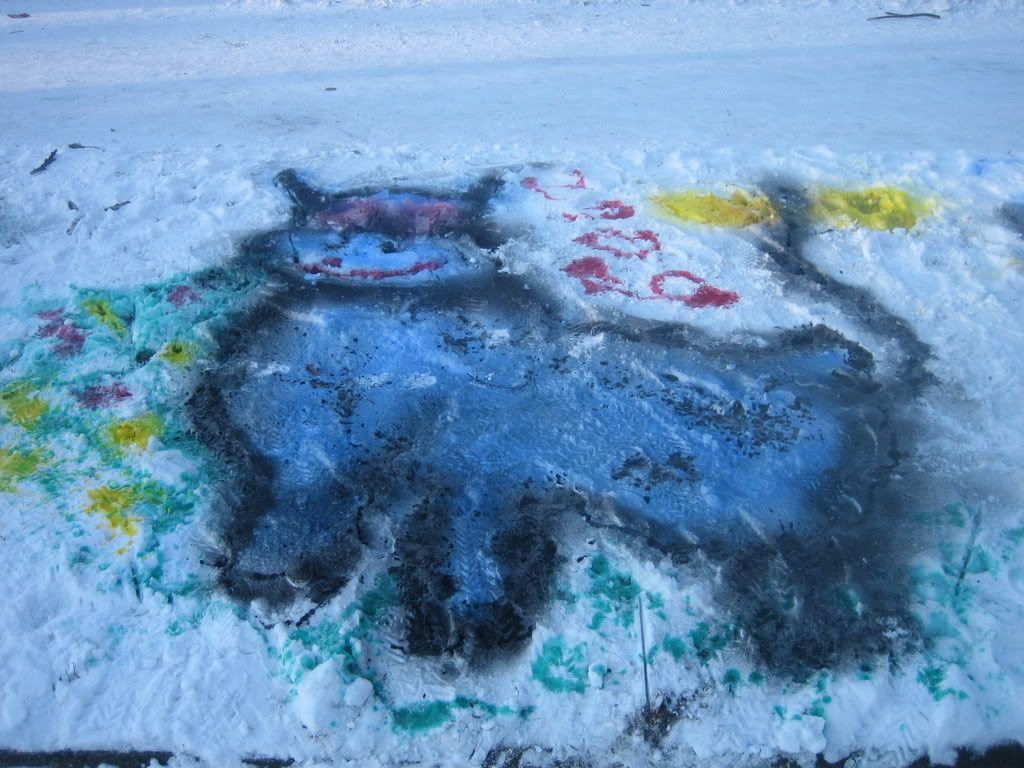 Снежный городок / Snowtown

Roads contained no cars, and the traffic police seemed to be reluctant to set their patrols so early after New Year. I found where all the people were the moment I entered the park. The Circle Alley was turned into a skating rink, and thousands of Muscovites kept skating through it. Those without skates crowded on both sides and nearby forest cuttings, one of the latter hosted the snow painting contest.

What is that? A painting made by dyes on the snow. However strange it may seem, I have never seen anything like that, because such pictures have short lives. They are bound to melt down in thaw or be buried in a snowfall. Luckily neither of the two has happened today, so you might observe all the pictures. They mostly showed bulls and cows, some of them resembling cats or asses rather, and all of them smiling wide like this specimen, which took the first place.

It was much fun in Sokolniki generally. Rotonda stage hosted a discothèque… for elderly people! The playing ground saw Snowtown erected, though the latter is completed from outside only.

Get in the open air! Believe me, it is much better than spending holidays together with a TV.

.